---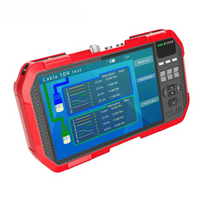 Sale
NEWEST CCTV Tester  H.265 4k H.264 IP cameras Testing, CVBS AHD CVI TVI  camera tester 
A82: 7 Inch CCTV Tester Monitor IP H.265 4K+CVBS+AHD 5MP +TVI 8MP +CVI 8MP Cameras testing 
A86: 7 Inch CCTV Tester Monitor IP H.265 4K+CVBS+AHD 5MP +TVI 8MP +CVI 8MP Cameras testing + Multimeter+Optical fiber power meter 
Main Features For A82 & A86:
● 7.0 inch all viewing angel& touch-screen, Two Rechargeable Lithium Batteries, DC12V/2A Output
● POE Ports:POE power supply, POE power receiving 
● Support H.264& H.265& 4K cameras;TVI 8MP & CVI 8MP & AHD 5MP;ONVIF test(IPC Test):IP Configuration,Modify IP Address,IP Password Notebook,LAN DHCP client;LAN static IP.
● Ethernet test: Dual 1000M Ethernet link test; Packet loss test; Ethernet loop detection; etc. 
● WIFI connection status:SSID, 2.4G& 5.0G band, connection rate, WIFI DHCP client, WIFI static IP, Tester as Access Point, WIFI bridge with LAN.
● WIFI tools: External foldable dual antenna, dual band Dipole omnidirectional antenna Spectrum test: Air& WIFI spectrum, Strong& Weak signal level; WIFI test:SSDI, 2.4G& 5.0G Band, MAC, Authorize type, IP address, DNS etc.; Signal monitor: Air& WIFI signal, SSDI, Frequency, 2.4G&5.0G Band, Freeze chart.
● HD IP, TVI, CVI, AHD & Analog Camera Testing. PTZ control, Viewing camera video, configure camera parameters. Video snapshot, video recording and Playback. 
● Signal generator: SD, CVI, TVI, AHD, HDMI Input and Output. 
● TDR Function: Cable length Testing; 0~200m net cable detection, resolution 0.1m. Cable Quality Test.connection state and attenuation for the connected RJ45 cable
● RS485 Data monitor; Playback. 
● Network tools: Ping IP/ IP scan, Sniff, List subnet 
● System Setting: Setting the automatic shutdown time, Setting the screen language System upgrade , USB storage  
● 8MP TVI test, 3840 x 2160P 15 fps, 4xzoom , video record &playback , coaxial PTZ control & call OSD menu 
● 5MP AHD test, 2560x1944P12.5F/ 20fps, 4xzoom, video record & playback, coaxial PTZ & call OSD menu 
● 8MP CVI test, 3840 x 2160P 12.5/15fps, 4xzoom, video record& playback, coaxial PTZ & call OSD menu                       
● Linux operated system: More stable operation
The Following Are New Features For A86 :
●
Optical power meter:
Wavelength:850nm,1300nm etc;Calibrate readings,Record data,Save report, Empty the temporary,Data staging
●

 
Digital Multimeter:
 

Voltage, Current, Resistance, Capacitance,Diode VF,Conductivity;Record data;Save the report,Empty the temporary,Data staging